The employees at Carmel & Naccasha take great pride in their commitment to giving back to the community and in that regard take environmental stewardship and their carbon footprint seriously. Over the years and as the business has grown, a number of conservation strategies have been put into action at both the San Luis Obispo and Paso Robles offices.
"As our children learn and care more about the benefits and necessities of environmental stewardship, we find that even these small steps make a difference in a connected community like ours," said Ziyad Naccasha. "Locals know if you make the effort to reduce your carbon footprint. Why take the time as a local business to do so? That's like asking why I should vote. Every little bit helps."
The effort started about five years ago, when one of the attorneys from the firm toured a client's building. The multi-faceted conservation efforts that were accomplished at that location inspired us and we began a strategic effort to implement more of those strategies at the firm's facilities. One of those measures was ample lighting provided by solar tubes. Shortly following the tour, two solar tubes were installed in the roof at the firm's Paso office to diffuse light as well as to bring down electricity costs. The solar tubes work incredibly well. In addition to the cost savings, they transformed an otherwise dark hallway and back office.
The firm has also implemented drought-resistant landscaping and is in the process of implementing other drought tolerant measures at both locations. The process of updating the landscaping at the Paso office started in January 2014. It was an easy process, which involved removing the grass lawns, updating the drip irrigation system and planting drought-tolerant foliage. Conservation efforts have continued since that time in the San Luis Obispo offices by limiting the watering of the lawn and by implementing other drought tolerant measures.
Finally, the firm broadened conservation opportunities for clients as well as attorneys last year by adding an electronic charging station for electric cars in the parking lot of the firm's San Luis Obispo office.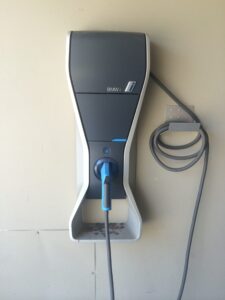 Aside from these conservation steps, the firm's team members have made an effort to embed environmental stewardship within the firm's culture. Employees recycle, most of the firm's lights have been replaced with LED bulbs, a water cooler is used instead of individual water bottles, draft copies are printed on both sides of each page, windows and doors are frequently opened instead of using the air conditioner, and lights are turned off when individuals are not in the offices. In addition, several employees walk or ride bikes to work or for meetings.
If you have any questions about any of the businesses that the firm hired to do any of this work, please call our offices at (805) 546-8785 and ask to speak with Courtney Kienow.